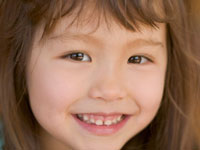 Your child's pediatric dentistry care should begin as soon as the first baby teeth emerge, and continue through their teenage years, to ensure a bright healthy smile into adulthood. Trusted Los Angeles pediatric dentist, Dr. Brother is a pedodontist who wants to be your partner in helping your kids develop healthy habits and beautiful smiles from baby teething through permanent teeth.
Dentistry for children at James Brother LLC6 means a cheerful, kid-friendly environment in which kids feel comfortable and secure through their dental visits. We know that if children develop a positive attitude toward the dentist, it can lead to a lifetime of oral health and a bright, beautiful smile.
Like all parents, you've got questions. We'll be happy to advise you on which toothbrush and toothpaste your child should be using, the best way to prevent cavities, and when to expect milestones such as losing baby teeth. We enjoy working directly with your child to help him or her master the tricky skills of brushing and flossing.
You can make an appointment with a great kid's dentist by calling our friendly staff at (213) 234-9876 or by completing our easy online form. We're committed to providing you with quality, affordable dental care!